Broken Arrow Guttering Near Me
When you are thinking about becoming a homeowner, there are a lot of challenges most people do not think about. One item on that list is your home's guttering. Whether you're building a new house or just want to maintain your current one, it's critical to pick the right gutters. There are a lot of factors to consider when choosing guttering for your Broken Arrow home.
One of the most important is the material it's made out of. Aluminum and vinyl are two of the most popular options, but they each have their benefits and drawbacks.
Ark Roofing and Construction considers the whole house and offers a variety of guttering options that will move and protect your home from water when it rains or snows. All options offer leaf protection if you want it. They like to keep you in the decision-making because it is your home and it should be your choice about what will be added to your home.
What Is Broken Arrow Guttering?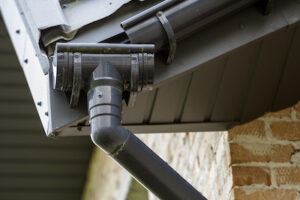 Your gutters are important because they divert water away from your property. They also safeguard the foundation of your house, preventing basement flooding.
Guttering in Broken Arrow also prevents the erosion of your landscaping and harm to the outside of your home. Gutters are the best way to avoid mold and mildew damage both inside and outside your home.
Seamless Gutters
We are pleased to be a one-stop shop for everything related to seamless gutters at Ark Roofing & Construction. Our seamless gutters are constructed of one piece and prevent damage and deterioration, which is unique. These types of gutters are connected without seams.
They are also far more appealing aesthetically since they eliminate any unnecessary joints and closures between gutter segments. Seamless gutters can be constructed of several materials, including aluminum, vinyl, steel, and copper.
The type of material you use for your gutters is dependent on your desired style, requirements, and budget. Our team of specialists will be able to assist you in selecting the right sort of seamless gutters for your needs.
Copper Gutters
Gutters have great functionality to them, but they also add to the look of your home. This type of gutter is of course made of copper, for example, is becoming more popular in house design. Copper gutters provide a timeless and elegant look to any property, particularly those with a more traditional style.
Copper gutters are beautiful, but they are also extremely durable. This combination of features is difficult to beat. Investing in copper gutters may quickly improve the curb appeal of your home while also helping to protect your most important investment.
Why Is Broken Arrow Near Me So Important?
The weather in Broken Arrow is constantly changing. You need a company like Ark Roofing and Construction that will look at the whole home and discuss with you the best options for your home and the area you are living in.
Roofing is one of the most expensive home repairs that can require a lot of time and money. This is why we at Ark Roofing offer our customers a full range of options to suit their needs. There are plenty of Tulsa and Broken Arrow roofing specialists who will utilize certain materials to save hundreds of dollars on replacing your roof, siding, windows, or gutters.
You are safeguarding your house by investing in high-quality guttering that is installed by skilled staff like Ark Roofing.